Our Customers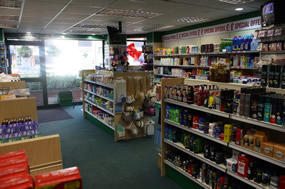 Spacious Layout
Our largest clientele are senior citizens (over 75%) and, as such, our shop is designed with them in mind - for example we ensure that those products that are continually popular with that age group are not situated out of reach nor are they ever out of stock. Additionally, there is nothing on the shop floor to obstruct our disabled customers.
Our Business and Professional practice
Business aspect
Our shop is merchandised and fitted out in order that shopping is made to be an easy and pleasurable experience for our customers. On a number of occasions we have had customers comment on just such a fact. In order to help the business aspect of the Pharmacy, we have made OTC and GSL far more accessible.
Professional practice
Our continued use of CPI has allowed us to develop not only as a business, but also as a professional practice, this includes the overhauling of our tiling system which was becoming dated. This has allowed us to have excellent stock control, as well as keeping us in constant contact with our suppliers, that we may maintain stock levels.
Design of the shop
With regard to the design of the shop, we have recently altered the layout of the shop, changing the way that we merchandise perfumes, in order that more room is made available for other products. Additionally this year we have made sure that our display units, which are set into the wall to ensure that they are not an obstruction, are regularly updated with new and exciting offers, and that they are always aesthetically eye catching for the customer.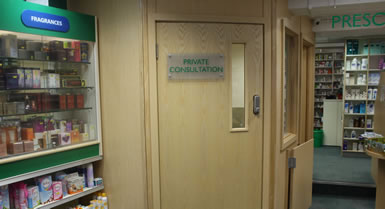 New Consulting Room
Our recent re-design of the shop allowed us to create a private consulting room, so customers can discuss health issues or concerns in confidence with the pharmacist. 
Brand Equalization
We also take part in brand equalization of Pharmacy Alliance, which helps patient compliance - patients are used to branded names and the price difference is matched by the company, which is, of course, a branch of Unichem. It is important to us that the service that we offer our customers is the best it possibly can be. Naturally the excellent displays that we have means that we can ensure that our customers are receiving the best service and products for their money. We make sure that we do not sell them merely the most expensive product, but instead the one, which will best serve their needs.
Our Pharmacist
The pharmacist caters for health advice, measuring blood pressure, offering free homeopathic advice. We have a wide choice of products ranging from the daily needs to gifts for that special occasion and alternative therapies like homeopathy.